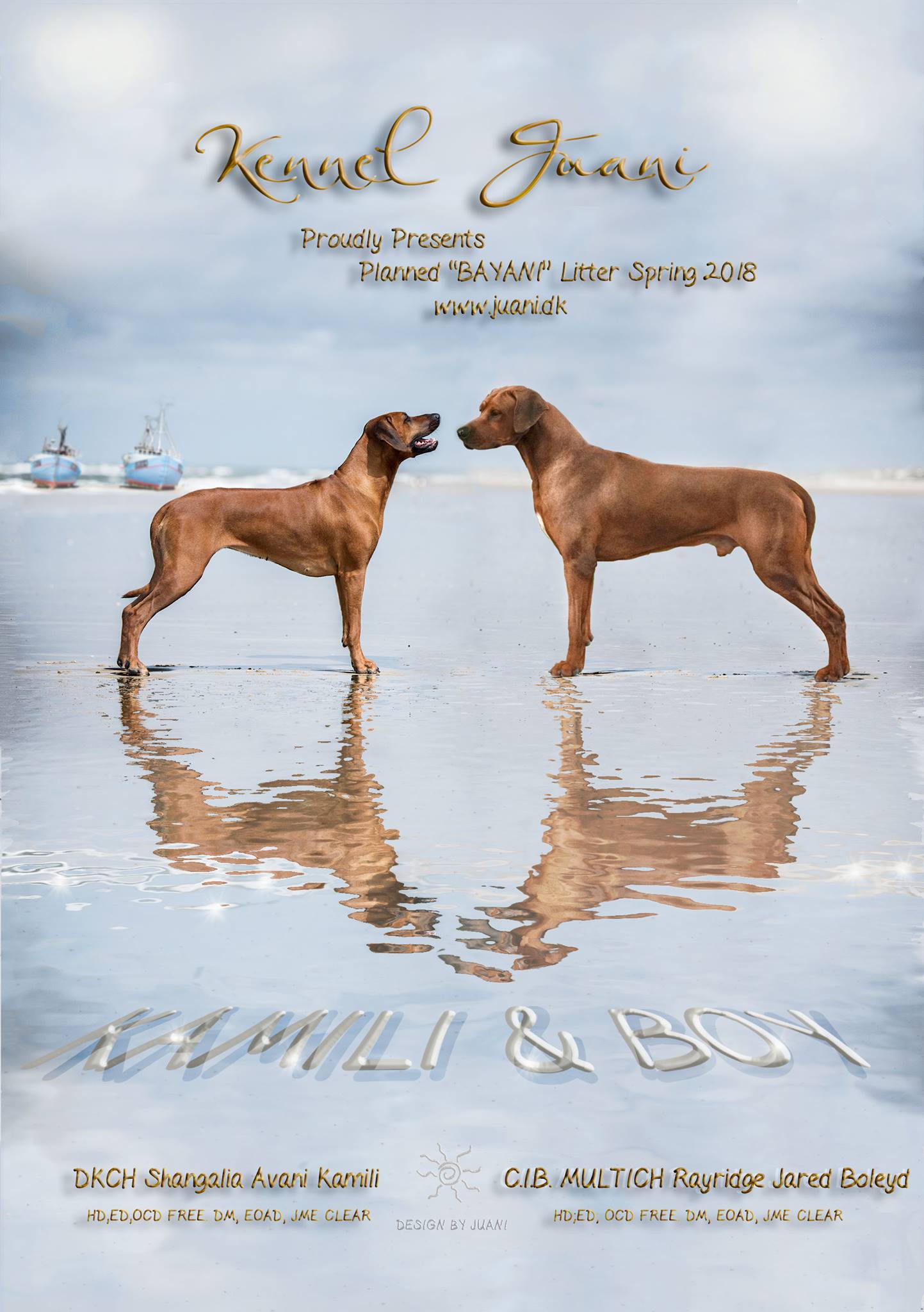 Juani Bayani
Bayani is the Swahili name for "Hero" and the hero for our spring 2018 litter with Kamili is the wonderful Rayridge Jared Boleyd – "BOY". He lives in Moscow, Russia with his owner Anastasia Mishina. Our decision to use Boy for our next litter is a result of a long research for the right stud to match our beautiful girl Kamili. Boy has got everything it takes: a nice temperament, nice healthy bloodlines, and a gorgeous exterior. We are very happy to have found Boy and thankful to Anastasia for allowing us to use him for breeding. We are going to keep a puppy from this litter as part of our Juani pack.
We expect that the combination of Kamili and Boy will bring strong, healthy and beautiful puppies with excellent temperaments and exterior. We expect that the offspring will be attentive and have a strong willingness to work and at the same time cool relaxed and pleasant family dogs.
Boy
Boy is a cool confident Rhodesian Ridgeback male, very gentle and masculine. He is strong in everything: Powerful movement, strong straight back, excellent angulations, tight paws, excellent chest and head expression. Boy is International Show Champion and multi show champion with the Champion titles in 10 countries + junior Champion in 3 countries. He has won Best in Show (BIS) and has 9xCACIB.
Kamili
Kamili is a sweetheart, very feminine and strong. Kamili is a perfect build Rhodesian Ridgeback bitch, beautifully balanced, strong straight back, excellent angulation, tight paws and beautiful feminine head expression. Kamili is Danish Show Champion with 2 x CACIB and she has received only excellent judgment across Europe. She is Jugend Best of Show in both Kassel 2014 and Offenburg 2015 in Germany and has placed Best Bitch several times in her adulthood.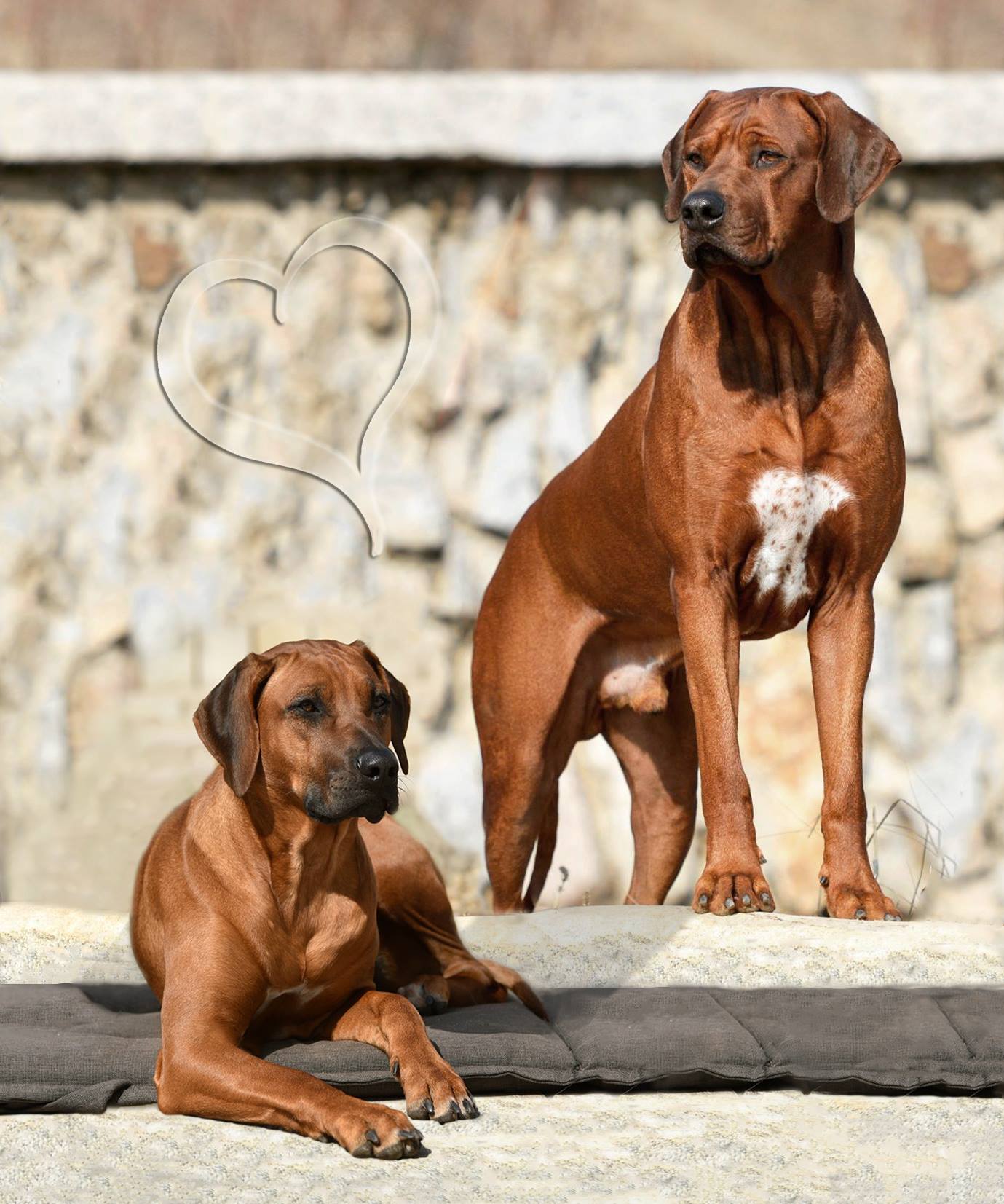 DKCH Shangalia Avani Kamili
C.I.B MULTICH Rayridge Jared Boleyd "BOY"
Born: 20 Feb. 2014
Sex: Female
Height: 63cm and Weight: 33kg
Born: 09 April. 2012
Sex: Male
Height: 69cm and Weight: 45kg
Hips: A/A (clear) Elbows: 0/0 (clear)
OCD: clear
DM: N/N (clear)
EOAD: High confidence clear
JME: Clear
Dilution D-lokus: D/D
 Hips: A/B (clear) Elbows: 0/0 (clear)
OCD: clear
DM: N/N (clear)
EOAD: High confidence clear
JME: clear
DNA test for ridge: the dominant homozygote
Coat is red wheaten, black mask
Correct Ridge
Correct eyes, colour harmonize with coat
Correct bite, full dentition
Coat is red wheaten, black mask
Correct Ridge
Correct eyes, colour harmonize with coat
Correct bite, full dentition
Kamilis Page
Shangalia Avani Litter
Boy at Kennel Rayridge